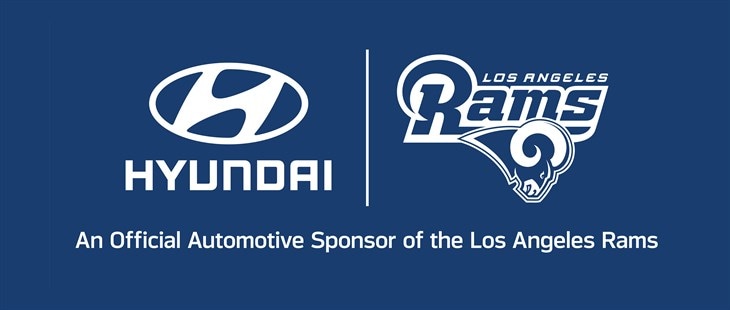 Twenty-one years is a long time to wait, but wait no longer LA football fans finally have a team of thier on, who made their debut last Monday. When Hyundai came to the US 30 years ago, they made Southern California their home. They are celebrating the comeback for the Los Angeles Rams to Southern Cali by being their official sponsor of the franchise. The LA Rams are the newest addition to Hyundai's NFL team sponsorship that includes the Arizona Cardinals, Houston Texans, Minnesota Vikings, P ittsburgh Steelers and Miami Dolphins, along with official car and SUV designations of the league.
"Being based in Southern California, Hyundai shares the excitement with the community and NFL fans as the Rams open their first season back in Los Angeles," said Trea Reedy, senior group manager, Experiential Marketing, Hyundai Motor America. "As an official NFL sponsor we are ecstatic to align our brand with the energy and excitement of the NFL's return to the country's second largest market."
Hyundai will have a display inside the Los Angeles Memorial Coliseum close to the entrance to the Hyundai branded columns and field suties and an interactive activation outside the stadium. Hyundai will also be the presenting sponsor of digital video series, "Under the Lights" and an infographic series on the Rams social media accounts.
"We are excited to partner with Hyundai to enhance the fan experience," said Mike O'Keefe, Rams vice president of corporate partnerships. "As we kick off our inaugural season back home in Los Angeles, we look forward to working with the team at Hyundai to engage our fans and their customers through unique content and activations all season long."
To keep up to speed on all of Hyundai's NFL related activities, please visit HyundaiNews.com.