Hyundai Motor and WaiveCar parntered to bring attention to the all-new Hyundai IONIQ electric compact car for free. The Hyundai IONIQ is the world's first all-electriv car-sharing program that runs on advertising dollars.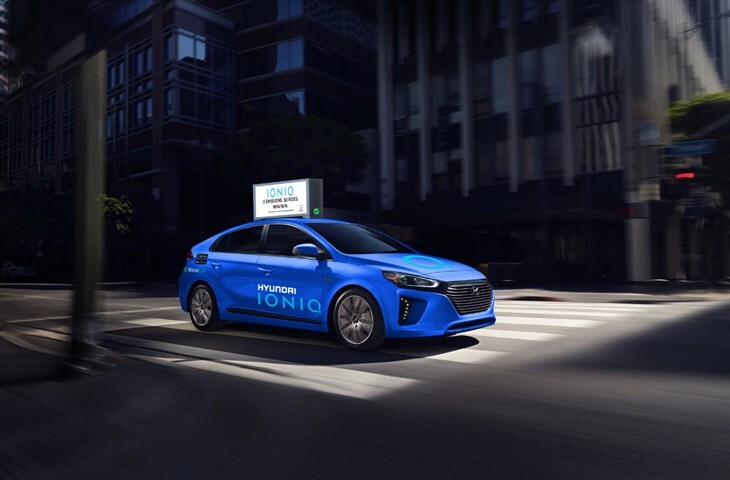 Hyundai's Project IONIQ gives customers the opportunity to drive IONIQ EVs on-demand for 2 hours at no cost. But in exchange, the vehicle is wrapped in advertising and includes a roof mounted digital display that generates the advertising revenue WaiveCar uses to counterbalance costs. For example, while sitting in morning traffic on the 405 freeway, the ad could read, "This commute would be a lot more comfortable in a Hyundai IONIQ."
"WaiveCar presents some great solutions for us," said Mark Dipko, director of corporate planning and strategy at Hyundai Motor America. "The IONIQ offers emissions-free transportation to on-the-go Angelenos. This partnership allows us to reach potential customers and give them the opportunity to test drive our outstanding IONIQ electric while generating awareness for the IONIQ brand at the same time."
This will launch early 2017 and is Hyundai's first big deal with car-sharing and has a goal to make it an easy process for people without a vehicle for short-term access for free. All you have to do is download WaiveCar's app and find an IONIQ near them, book, and drive!
You can drive for free for 2 hours at a time or for $5.99 an hour or return the car at any assigned spot for the next user. WaiveCar plans to add 150 IONIQs which will be deployed throughout Los Angeles in the first half of 2017. WaiveCar is planning to launch in three additional cities by the end of 2017 using 250 more IONIQs.
"We are extremely excited to be working together with Hyundai," said Zoli Honig, WaiveCar's CTO & Co-Founder. "Providing low cost, eco-friendly transportation alternatives to consumers is our core mission and offering the IONIQ will accelerate that goal. We believe this partnership will be tremendously beneficial for Hyundai, WaiveCar, our customers, and the environment."