Hyundai premiered their "MyHyundai" app that features Blue Link. The app combines services that are available in the Blue Link and Car mobile app, but the MyHyundai app makes things even easier for customers to access Blue Link, remote start, service appointments, vehicle diagnostics and how-to videos similar to the ones on the Hyundai website. It will also has additional features in the future. It pairs with smartphones and tablets and is free to download in Google Play and Apple App Store.
"Hyundai is constantly striving to make things better. Bundling all of these great services into one app simplifies and enhances the ownership experience for our customers," said Barry Ratzlaff, executive director, digital business planning and connected operations, Hyundai Motor America. "The 'There Is an App for That' movement has caused a lot of clutter on cellphones and we hope our approach keeps that clutter down to a minimum. Look for Hyundai to continue to deliver more through this one-app solution."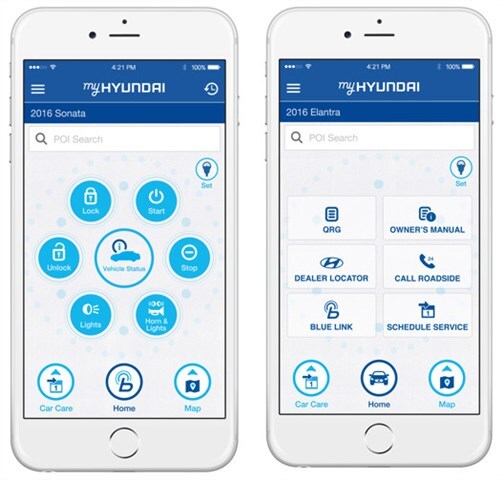 MyHyundai mobile app features include:
Single login for Blue Link and MyHyundai
Updated car care content (videos) for 2016 model year vehicles
Guest user extended features:
Search for nearby gas stations
Point of interest search
Parking meter
Service Features:
Schedule service
Recommended maintenance schedule
Recall notifications
Accessories
Manuals and Tips:
Dashboard indicators
FAQs
Manuals
How to videos
Car care tips
Bluetooth pairing videos
Blue Link Services
Remote start with climate control (if equipped)
Remote door lock/unlock
Remote horn and lights
Vehicle status
Car finder (if equipped)
Blue Link subscription management
Blue Link payment management
Active diagnostic codes
Notification history
Hyundai dealer locator
Call roadside assistance
Destination search
Destination send-to-car
Monthly vehicle health report
My Account
Hyundai rewards
Hyundai Motor Finance
My profile
Account security
Vehicle purchase history
Communications preferences
Alerts
Contact Hyundai
To access the full set of app features, users will need to activate their Blue Link service with the remote package. Customers without a current Blue Link subscription can get a demonstration of the Blue Link remote features inside the MyHyundai app.